ARCHIVED WEBINAR
Smart Phones, Smart Coaches, Smart Patients: How to use Digital Coaching in Diabetes Management
Recorded January 2016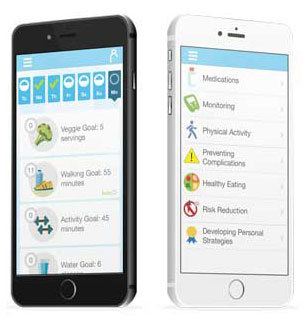 Keeping up with the world of ever-changing technology can be a difficult task — however, innovations in social media and digital engagement have trickled over to the healthcare system through digital coaching options for educators and their patients. In order to stay relevant in today's digital age, health care providers must become adaptable to such technology and optimize patient experience and engagement by providing coaching options that are accessible, convenient, and relatable.
Join us for this webinar to learn the value of DSME/S digital coaching interventions and best practices to improve outcomes for people with diabetes.
What you'll learn about:
The gaps in DSME/S today
Best practices for providing support between DSME/S sessions
Evidence-base on effectiveness of remote coaching
HIPAA compliant remote coaching tools for clinicians
How to incorporate digital tools into your workflow
Digital coaching tools that empower patient in behavioural change, while reducing clinician workload
Who should attend:
Our Speakers:
Anna Gofeld, BASc, MAN, RD, Digital Coaching Lead
Anna brings her experience in digital coaching and patient care to the development of the virtual coaching platform. Working closely with the digital team and health care professional users, she serves as a liaison that translates clinical needs into digital deliverables. Anna earned her BSc in Nutrition and Food at Ryerson University, followed by a combination Masters of Applied Nutrition and Registered Dietitian Internship program at the University of Guelph.
Barbara Eichorst MS, RD, CDE, Vice-President, Clinical
Barbara is an internationally known asset in the chronic disease management arena, and brings extensive clinical care and program administration experience to Healthy Interactions, with a driving passion and generous dose of joy. She is currently leading the development and implementation of the global training for its diabetes franchise. As an educator with experience in medical continuing education and patient interventions, Barbara has contributed much to the advancement in diabetes care. In her career, Barbara served as Program Director for the American Association of Diabetes Educators, the diabetes educator for a national insulin program, and diabetes program manager for primary care network at Rush University Medical Center. She has also provided weight management, cardiac, eating disorder, renal, and oncology Medical Nutrition Therapy at Loyola University Medical Center as well as Northwestern University Medical Center. In addition to publishing numerous articles, Barbara reviews several diabetes-related publications and serves as a committee member for NCBDE and other practice associations. She received her Master of Science degree in Nutrition Education from Eastern Illinois University, and her Bachelor of Science Degree in Chemistry and Dietetics from Olivet Nazarene University. Most recently, she has been working toward her doctorate in a field of clinical care.